Galaxie Holografico
Rainbow Pigmento
#411555 1g $20
Click Here for International Shipping Information
For Professional Use Only - Licensed Technicians Only
________________________________________________________________________________
Home | Customer Service | Shipping Info | Privacy Policy | Terms & Condition | About Us | Contact
©2017 | CCi Industries, Inc. | Designed and Managed by CCI Industries, Inc.


Efecto Chrome Mirror Glitter
#411442 $12

GOLD CHROME SILVER CHROME
out stock #411453
$25 ea.
AORA 8-Gel White
#411550 $13
Set de Pinceles Silicona #411461 $8
Aora Rainbow Hologram Kit #411463 $119
Ultimo - Hologram Pigment Powder
#411465 1g $25

Pigmento
Chrome Metal Gold
#411466 3g $12

(Click to Enlarge)
Sticker Aora
#411449 $1.50 ea.
Organic Nails CHROME IT! 1g
1g Jars Organic Nails
• Chrome Chameleon $29 c/u
• Chrome Holographic $29 c/u
• Chrome Golden $29 c/u
• Chrome Foil $29 c/u
• Chrome Mirror $15 c/u
Pigment 14K
#411490 $10
Gel Matte Top Coat
GelFinity Soak Off
#411548 1/2oz. $14.95
GelFinity Gel Matte Top Seals Soak-Off gel polish to a matte finish that will not fade, chip or peel. Cures to a no-wipe finish. To remove soak-off with acetone or polish remover. Cures 90 seconds in LED or 2 minutes in a standard UV Light.
To Remove: Soak in acetone until soft then gently remove with a metal pusher.
Aora Top
#411530 $13
PIGMENTO ROSE GOLD #411607 1g $20
white chrome mirror #411606 3g $15
fAKES AURORA BOREAL #411605 1 g $20
PAPEL VIRDIO - AURORA BOREAL
#411613 $3
Ultimo Kit de Flakes1/2g ea
#411631 $50
Flakes margenta 1/2g
#411632 $10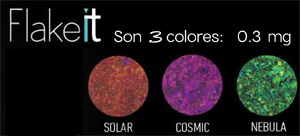 Kit con 4-Colores $60 Colores Individuales $18 c.u
Foil Pattern: Vivora AB
#411639 $3
Black chrome mirror
pigment 3g
#411646 $12